You are here

Investment Methodology
Investment Methodology
We feel that being truly tactical means having the ability to move to any sector, company size, geographical location, or industry based upon the market cycle. Corbett Road's proprietary research vehicle, MACROCAST™, serves as the foundation for the risk allocation across all of our managed strategies. The MACROCAST™ Score and its trend, work to assess if market conditions are favorable or unfavorable for risk assets.
Corbett Road examines data across 6 categories (the VITALS) that we believe impact market conditions. Within the VITALS, we look at more than 20 specific indicators that drive the MACROCAST™ Score. These indicators are then assessed and classified as signaling a positive (+1), neutral (0), or negative (-1) trend. The final MACROCAST™ Score is the result of the summation of the classified indicators.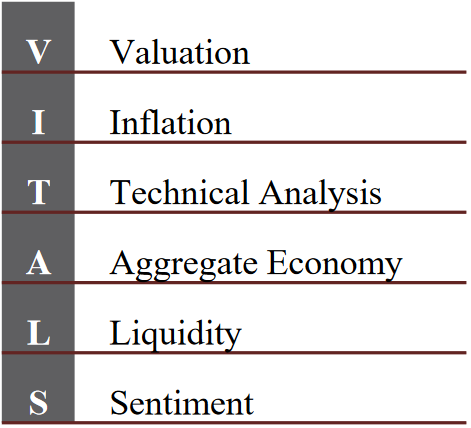 Any resulting number above 1 is considered a favorable indication for risk assets in the market. Any negative overall score is considered a negative indicator of macro economic health and will result in Corbett Road tactically removing risk from our strategies.
Fundamental Review
INVESTMENT METHODOLOGY
Corbett Road's investment process recognizes that there is no one single best approach to fundamental analysis. As a result we are fully flexible in our methodology be it Growth, Value or Growth at a reasonable price.
Core Stock Investments
Growth Focus: Better than average earnings and revenue growth
Quality Business: Better than average return on invested capital and profit margins
Ability to Self Fund
Consistently profitable, even during recessions
Strong competitive advantage. Akin to Buffett's "Moat"
Opportunistic Holdings
Ugly Ducklings – companies with poor fundamentals in the past, however the story is improving
Future Leaders – lesser known Mid and Small Cap companies with excellent growth prospects
Cyclicals – Stocks that tend to show good momentum during the expansionary part of economic cycle
Quantitative Risk Management
PROACTIVE
Corbett Road's MACROCAST™ model is designed to be proactive/predictive in its role in assessing risk. Our core belief is the economic stress will eventually lead to market stress and decline. Through our macro model our goal is to proactively reduce risk in our strategies based on the predictive characteristics of our model.
REACTIVE
Corbett Road also establishes maximum losses for each investment from cost basis and also from peak return.